Anyone living in Louisiana or along the Gulf Coast understands the importance of regular roof repairs and maintenance. It is vital to protect your physical assets. An undetected leak will wreak havoc on a building and its contents.
Here are more reasons why regular roof repairs and maintenance are so vital.
Reduce The Cost Of Roof Repairs
When it comes to your roof, a dollar in prevention will save you hundreds or thousands down the road. A yearly inspection uncovers minor issues now before they turn into big ones.
The best time to inspect your roof in Southeast Louisiana, especially in New Orleans and the North Shore, is shortly before the hurricane season.
Many homeowners and business owners alike opt to get a maintenance contract. They know the roof maintenance company will inspect their roof and address any minor issues for one affordable cost.
A good roofing company will also clean the roof and ensure the roof is draining off properly.
If they spot any minor problems like damage around the flashing or missing shingles, they will fix them immediately. They will repair or seal around chimneys and skylights, a source of many chronic leaks.
A quality roofing company saves you money on roof repairs and gives you peace of mind. You will know your building and its contents are protected.
You will be avoiding costly maintenance for one low contract price.
Here are some of the things they will do:
Check around chimneys and flashings
Look for damage or sagging spots
Look for weakened areas
Check around plumbing vents
Sweep and clean the roof of debris
Check your gutters and downspouts
Provide minor repairs
Look for missing shingles.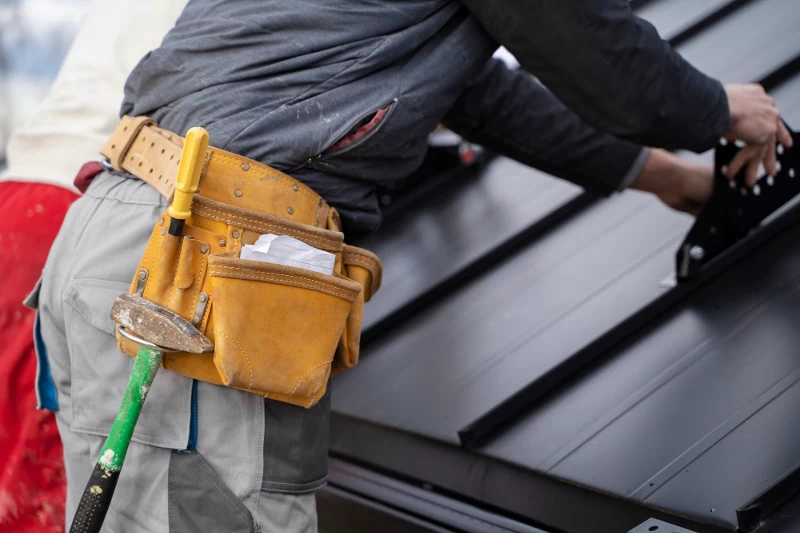 What If You Need Extensive Roof Repairs?
Owning a maintenance contract avoids extensive repairs. However, there are times when your roof may need significant repairs.
That typically happens as the roof gets older. More reasons include neglect or natural disasters.
On the bright side, folks with a maintenance contract already have a good relationship with a roofing company. They will likely get a good deal because the company already knows the customer and the roof. The chances of getting ripped off are also lower.
More Benefits Of Regular Roof Repairs And Maintenance
The cost is the most important reason for regular roof repairs and maintenance. Your roof will last longer and be more worry-free over the years. Rather than replacing your roof in 15 years, it could last 30 or more years.
Curb appeal is another good reason to have the right roofing maintenance plan. Frequent cleaning makes a roof far less prone to streaking or discoloration. In the New Orleans area, this is important. Most houses have light-colored shingles to reflect the sun. Discoloration or black streaks from mold reflect far less sunlight.
If you need a Roof Inspection or various Roof Repairs, the Anything And Everything NOLA Roofing Company is committed to customer satisfaction and a job well done.
They are a licensed Louisiana contractor with an extensive list of happy clients and decades of experience. They understand the importance of timely roof repairs and regular roof maintenance.
Call them to discuss your custom maintenance plans, full-service roof repairs, or replacement.
Tap the 'Call Us Button Below.'