When it comes to home renovations, you'll want to find the best James Hardie Board Siding Contractor – New Orleans – North Shore. Choosing the right siding material is one of the most important decisions. And if you're looking for a durable and stylish option that can withstand the harsh weather conditions in the New Orleans area, James Hardie Board might just be what you need.
This fiber cement siding has been gaining popularity in New Orleans (NOLA) and beyond thanks to its impressive durability and low-maintenance features. But before you decide to go with James Hardie Board for your next renovation project, let's look closer into what this material is all about and whether it best fits your needs!
What is James Hardie Board Siding?
James Hardie Board is a type of siding material made from fiber cement, which combines sand, cement, and cellulose fibers. Unlike traditional wood or vinyl siding, James Hardie Board resists fire, moisture damage, and, most important in New Orleans, pests. That makes it an excellent option for homes in areas with extreme weather conditions like New Orleans.
One of the key advantages of James Hardie Board is its versatility. It has many styles and colors to match any home design or architecture. Whether you prefer the classic look of lap siding or the modern appeal of vertical panels, there's a James Hardie Board product that will suit your taste.
Another benefit of using James Hardie Board for your New Orleans home renovation project is its durability and longevity. With proper installation by a qualified siding contractor in New Orleans (NOLA), this material can last up to 50 years without needing replacement.
If you're looking for a low-maintenance and long-lasting siding option that can enhance your home's curb appeal and withstand harsh weather conditions found in NOLA, then James Hardie Board should be on your bucket list for consideration!
The Different Types of James Hardie Board Siding
James Hardie Board offers a range of siding options for homeowners to choose from. The different types of James Hardie Board include:
HardiePlank lap siding
Vertical siding
Shingle siding
Panel siding.
Each type has its own unique style and texture that can fit any home design. HardiePlank lap siding is the most popular option due to its classic look and durability. It comes in various textures like smooth or wood grain finish.
Vertical siding provides a modern look with clean lines, while shingle siding gives off a traditional cedar shake appearance.
Panel Siding offers a sleek contemporary feel with long clean lines that can be installed vertically or horizontally on your exterior walls. Homeowners in New Orleans often opt for this style when they want their homes to have an industrial vibe or minimalist look.
It's essential to select the right kind of James Hardie board, as it will affect how well it performs over time and how it complements the overall aesthetic appeal of your house. Consulting with a professional siding contractor specializing in installing these materials can help you decide what type works best for your needs.
Pros and Cons of James Hardie Board Siding
James Hardie Board Siding is a popular choice for homeowners and builders looking to install durable, long-lasting siding. However, like any building material, it has its own pros and cons.
One of the most significant advantages of James Hardie Board Siding is that it is incredibly resilient and can withstand harsh weather conditions such as heavy rain, strong winds, hail storms, and even fire. This makes it an ideal option for areas prone to natural disasters.
Another advantage of James Hardie Board is that it requires very little maintenance compared to other types of siding materials. Due to moisture exposure, its unique composition does not rot or warp over time.
However, one downside to James Hardie Board is that it can be more expensive upfront than traditional vinyl or wood siding options. Additionally, installation may require specialized equipment, which could add extra costs.
While the James Hardie board has many benefits in terms of durability and low-maintenance needs, some people criticize the product's lack of insulation properties compared to insulated vinyl products on the market today.
Despite a few drawbacks – if you are looking for a high-quality exterior cladding solution in New Orleans, consider confidently choosing James Hardie Siding board!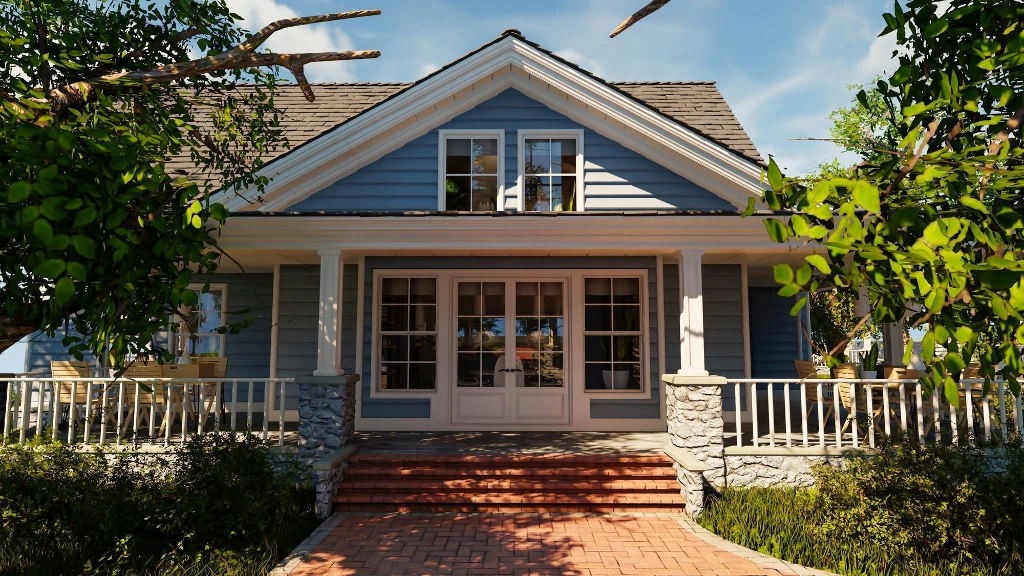 Why Use James Hardie Board Siding?
James Hardie Board Siding is a versatile material that can be used for various applications. It is often used as a durable siding option but has other uses. For instance, James Hardie Board can be used for trim work around windows and doors to provide protection against moisture and weathering.
Another great use of James Hardie Board is as an accent piece on the exterior of your home or business. With its wide range of colors, you can choose one that perfectly complements the rest of your building's design elements.
James Hardie Board Siding also works well in high-moisture areas such as bathrooms and laundry rooms where traditional drywall may deteriorate over time due to humidity. The board's durability makes it resistant to mold growth which helps keep these spaces hygienic.
Additionally, construction professionals recommend using James Hardie Board when constructing new decks or outdoor living spaces because it resists damage from insects and harsh weather conditions better than wood alternatives.
In summary, James Hardie Board provides a sturdy solution for construction projects in the New Orleans area with its versatility, making it ideal for different kinds of applications, both indoors and outdoors.
Alternatives to James Hardie Board Siding
While James Hardie Board Siding is a fantastic option for siding, it may not work for everyone. Luckily, there are plenty of alternative materials to consider.
One option is vinyl siding. This material is affordable and easy to install, making it a popular choice among homeowners. It's also low-maintenance and comes in many colors and styles.
Another alternative is wood siding. While more expensive than vinyl, wood gives NOLA homes a natural look that other materials can't match. However, wood requires regular maintenance, such as painting or staining, to protect against rot and insects.
Fiber cement siding is another competitor to James Hardie Board. Made from a mixture of sand, cement, and cellulose fibers, this material offers durability and fire resistance, similar to James Hardie Board.
Brick or stone veneer can provide an elegant look while offering protection from the elements. These options can be costly but add value to the home overall.
When considering alternatives to James Hardie Board, it's essential to consider your budget and the style you're looking for in your New Orleans home's exterior design!
Get A James Hardie Board Contractor
If you're looking for a reliable siding contractor in New Orleans, look no further than the professionals at Anything and Everything Roofing. Our team has years of experience installing James Hardie Board Siding and other types of siding throughout NOLA and the North Shore. We understand the area's unique climate and architectural styles, allowing us to recommend the best solutions for your home or business.
Our expert siding contractor will work with you every step of the way, from selecting materials to completing installation. We pride ourselves on delivering high-quality workmanship that exceeds expectations. And we can even handle your insurance claim from beginning to end.
In addition to James Hardie Board, we offer a wide range of siding options to fit your specific needs and budget. Contact us today to schedule a consultation and see how we can transform your property with beautiful new siding!